Heraklion, Crete
ΗΡΑΚΛΕΙΟ

---
Eastern Crete is home to Heraklion, on the northern side of Crete. It is both the largest city and the capital of the island. Here you will find constant activity because most tourists arrive here first when they come to Crete. It is a place rich with history and archaeological sites, including the Palace of Knossos. Crete combines natural wonders with plenty of industry to accommodate the tourist's desires to shop, eat, relax, and learn all at once. Tourists will delight in the family-run tavernas that supply the hungry visitor with meat like lamb and pork, and a host of specialty cheeses and wines.

---

​However, Crete's landscape is probably its biggest asset. Its coastline has earned it the nickname Big Blue. Cretans enjoy the water that surrounds them, as do tourists. A favorite sport at most any beach is windsurfing, and rentals are normally available. Much of the terrain on Crete is rough, but this can also make for a nice challenge if you are a hiker, biker, or nature enthusiast. For those less physically inclined, Crete offers plenty of museums and unique activities that will allow you to take it easy and enjoy. Bird watching, for example, is common in Heraklion, where migratory birds fly en masse. Regardless of your interests, Crete is sure to inspire awe with its rich history and modern splendor.

​Archaeological evidence shows that Heraklion probably arose during the 9th century B.C. and was named in tribute to the Greek goddess Rhea, mother of Zeus. And like most Mediterranean cities, Heraklion has a long and turbulent history. Officially founded by the Saracens in the 9th century, the Byzantine Empire invaded in 961 only to lose control to the Crusaders who sold Crete to the Venetians in 1211 for a thousand silver coins.
​Heraklion flourished once more under the Venetians. Throughout the city you'll find stunning reminders of their influence: the Loggia, Venetian Walls, and Fountain of Morosini are just a few must-see examples. But Heraklion is probably best known as the gateway to the breathtaking 4,000 year-old Minoan ruins at Knossos and to the famous windmills stretched across the Lassithi Plateau.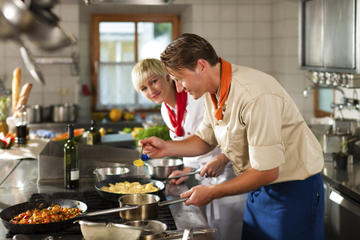 Private Cooking Class and Wine Tasting in Heraklion
Set your taste buds tingling
during this private, 5-hour cooking class and wine tasting tour in Heraklion.
Visit a prestigious winery and learn about winemaking methods
during a tour of the cellar, vineyards and production area.
Sip on three different varietals of wine during a guided tasting.
Then, head to Arolithos village, where you'll visit a folklore museum and see traditional architecture, before taking part in a cooking class, with hands-on instruction from a local in the art of Cretan cuisine.
The ruins of the Minoan Palace of Knossos. Photo by Nicos Kontos, '60s, courtesy Greek National Tourist Organization.
Cretan Food, Wine, Agriculture and History
Full Day Tour

Explore Cretan history, culture and modern lifestyle on this full day tour in Heraklion.
Participate in agricultural and traditional daily activities with a local guide.
Visit art workshops and religious sites.
Enjoy a wine-tasting session.
Highlights
Heraklion Archaeological Museum
Heraklion Archaeological Museum is world famous, and is renowned for its vast array of exhibits from Crete and all over Greece, including a collection of treasures from the Minoans – the oldest European civilization. The museum was just honored as the 2017 European Museum of the Year by the European Museum Forum (EMF) that took place in Zagreb, Croatia May 3-6, 2017.

Knossos Palace
Crete's archaeological gem is the largest and most important of the Minoan palaces. Dating back 7,000 years, Knossos was the mythological home of King Minos who kept the menacing Minotaur in the palace's underground labyrinth. .

Kera Kardiotissa Monastery
Considered Crete's most important Byzantine church, inside you'll find remarkably vivid frescoes from the 14th and 15th centuries. The monastery is equally famous for its Virgin Mary icon, which is believed to have performed miracles.

Thrapsano Village
Thrapsano is renowned for its pottery and ceramics. This ancient art form has flourished here dating back over 4,000 years and Thrapsano's craftsmen are said to be descendants of Minoan potters.

Zorba the Greek

Audiobook Download - $14.99

Author: Nikos Kazantzakis

Narrator: George Guidall
Format: Audio Book (Digital Audiobook Download)

Take full advantage of your downtime traveling to and around Greece, and delight in listening to an interesting book!
Ancient Palace of Knossos


Explore the Minoan Palace of Knossos and visit the nearby main city of Heraklion
on a 5-hour tour!

With an expert local guide, walk around the ruins and excavations of the ancient palace (entrance at own expense), and learn about the Greek mythological tales that are linked to it.
Relax as you pass sights like the Church of Aghios Titos, Koules Venetian Fortress, etc.